What we do: Overview of our Services
The Economic Development and Tourism Team sings the praises of Eden as a world class visitor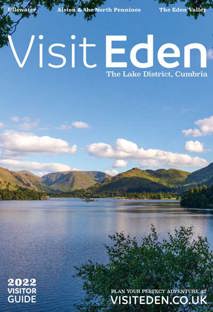 destination through our website www.visiteden.co.uk print and social media.
We also support Eden's tourism businesses through a variety of activities.


Visit Eden website
Our destination website www.visiteden.co.uk has lots of useful information including an accommodation listing (with an online booking option).  It also features attractions, eateries, walking and cycling information including cycle routes and events. There is also information on Eden's towns and villages plus lots more.  The website has responsive design so can be viewed on mobile devices. 
For more information on how to promote your business visit our Advertising section.

Social Media
We use social media to promote Eden locally and nationally via Twitter, Facebook, Pinterest and Instagram @visit_eden
Find out how you can get involved with us on our Social Media webpage.


Print

Brochures, guides and leaflets still remain an important part of the holiday planning process despite the growing influence of digital media.  We produce an annual Eden visitor guide in partnership with Bucket and Spade.  The guide is distributed via a national media campaign and to Tourist Information Centres across the country (UK). Find out how you can promote your business in the Eden visitor guide.

We have also produced a complete set of free "Do in a Day" Eden cycling leaflets for Penrith, Ullswater, Alston and the North Pennines and Appleby and Kirkby Stephen.  The leaflets are available from local Tourist Information Centres and on our website.

We produce a complete set of town mini guides for Penrith, Appleby, Kirkby Stephen, Orton and Tebay and Alston. These are available from local Tourist Information Centres.


Visitor Information Service
Eden District Council operates Penrith Tourist Information Centre.
Eden District Council and Cumbria County Council jointly fund Alston Tourist Information Centre and the adjoining Library Service under the banner of Alston Local Links.  
We also supported Shap Information Point at the Old Courthouse through our Eden Tourism Grant Scheme.  


Partnership Working - projects to support the future of tourism in Eden
We work in partnership with a variety of public, private, community and voluntary organisations and tourism businesses to maximise the potential of Eden as a visitor destination.  Our Eden Tourism Network meet regularly to discuss the latest developments in tourism and to network.  Our annual Eden Tourism Summit brings together both national and regional speakers to talk about the current challenges and opportunities presented to our visitor economy.


More information on what we do: