Alston Local Links - Tourist Information Services
Alston in the North Pennines is surrounded by a unique landscape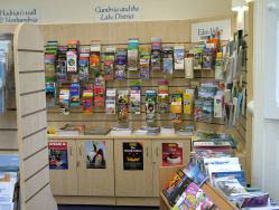 of moorland, hills and rivers .  Alston can claim to be one of England's highest market towns. The town is also a 'Walkers are Welcome' town. 
Alston Local Links is one of the local links offices in Cumbria
which deliver services locally to the community. Local links services are provided through a partnership formed between the county's six district councils, Cumbria County Council, the Lake District National Park, the Police and the Primary Care Trust.
Alston Local Links situated in Alston Town Hall provides library, tourist information and access to Council services. In 2009 the staff won 'Tourism team of the year' at the Cumbria Tourism Awards.
The friendly and knowledgeable team can help you make the most of your visit and can provide you with all you need to know about where to stay, where to eat, plus things to do and local travel information.
Come and visit the centre while you are here and you won't miss a thing!


Opening times:

Monday to Saturday 10am to 12.30pm and 1pm to 4.30pm
Sunday: Closed


Contact Alston Local Links:
Main Services
Local and regional Information Service:
We provide tourist information on what to see and do around
Alston and the North Pennines.
  Plus information on the
Eden Valley
, Cumbria, the Lake District, Hadrian's Wall, County Durham and Northumberland. This includes information on public transport and events taking place around the region. 
Local Accommodation Finding Service: We offer a local accommodation booking and 'book a bed ahead' service. So if time is short, why not let us do the hard work for you.
Range of guides, maps and books on sale: A selection of local guides, maps and books are on sale.
Local Fishing Licences: Fishing licenses are on sale for the local area.
Internet Access: Public internet access is available. 
Access to Tourist Information Centre: Wheelchair accessible.
Other services:
We supply Disability Rights UK National Key Scheme Keys (keys for accessible toilets). This national system offers independent access to disabled people to around 9,000 locked public toilets around the country.
Public toilets are available at Alston Town Hall and Alston Railway Station (during South Tynedale Railway opening hours only).
Alston Virtual Reality
We have worked in partnership with the North Pennines AONB on a new digital visitor interpretation - the first time we have trialled this at an Eden visitor centre. A corner of Alston TIC has been dedicated to a display and an area where visitors can use headsets to experience the history of High Mill through a Virtual Reality experience.  This takes users through the centuries to the present day. 
There are 4 headsets and also cardboard ones which can be used with mobile phones and an app.  These will also be available at other Alston outlets.  Read more in the news section of our website.