Cycle Routes - Ullswater
All cycle routes in this section are taken from the 'Biking around Ullswater' guide and start from Ullswater, which is the second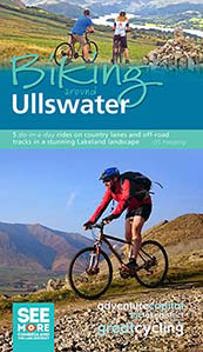 largest lake in Cumbria, at approximately 9 miles (14.5 km) long. Many regard Ullswater as the most beautiful of the English lakes: it is a typical Lake District narrow ribbon lake. The surrounding mountains give Ullswater the shape of an elongated 'Z' giving it three separate segments, or reaches that wind their way through the surrounding hills.
It is a truly dramatic picture; made all the more memorable by Ullswater's mirrored surface and a gently curving shoreline of green fields, woodlands and sheer rock faces rising from the lake.
There is a mix of routes in this guide with some suited to relative newcomers to the sport and more technical ones for experienced mountain bikers. There will be hills to climb, but they lead to great descents, and walking uphill is a great way to rest the legs and to take in the views!


Route grading
Route grades are expressed by route length, plus degree of difficulty - calculated as average height gain (metres) per kilometre - plus steep gradients.
Distance (miles)
Short: up to 10 miles
Medium: 10 - 25 miles
Long: over 25 miles
Height Gain (m per km)
Easy: up to 10m per km
Moderate: 10 - 15m per km
Hard: 15 - 20m per km
Challenge: over 20m per km
For further details of the area please contact Ullswater Information Centre or Penrith Tourist Information Centre. A range of serviced and self catering accommodation in the Ullswater area can be found in our accommodation section.
Downloadable Ullswater Cycle Routes: