Visit Eden Newsletter Signup
Keep up to date with the latest news, events, special offers and what's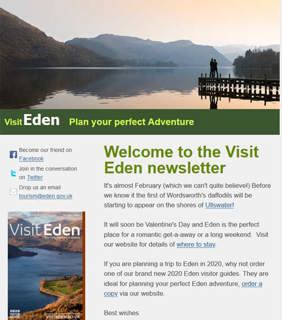 happening in Eden.
By signing up you are agreeing to receive our Visit Eden e-newsletter.
You can change your mind at any time by clicking the unsubscribe link in the footer of any email you receive from us, or by contacting us at tourism@eden.gov.uk


Sign up for the Visit Eden visitor e-newsletter
Just add your email address to the box below and we'll add you to our mailing list.