Cycle Routes - Penrith
All the cycle rides in this section are taken from the 'Cycling from Penrith' guide (New Edition) and start and finish in Penrith, an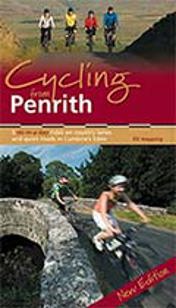 attractive market town on the edge of the Eden Valley, bounded by the Lake District National Park and North Pennines.
A bicycle gives you the freedom to explore the enchanting countryside at you own pace, stopping as you choose to take in the superb views which are a special feature of these routes.
If you don't wish to bring your own bike, you can hire one locally. Just call ahead and pick it up when you arrive.
We've tried to choose routes that don't require a Tour de France level of fitness. Even so, there will be some hills to climb, so don't feel disheartened if you have to get off and push from time to time. After all, you are enjoying good exercise and fresh air in some of Britain's most beautiful countryside....and the downhill comes next!


Route grading
Route grades are expressed by route length, plus degree of difficulty (calculated as average height gain (metres) per kilometre) plus steep gradients.
Distance (miles)
Short: up to 10 miles
Medium: 10 - 25 miles
Long: over 25 miles
Height Gain (m per km)
Easy: up to 10m per km
Moderate: 10 - 15m per km
Hard: 15 - 20m per km
Challenge: over 20m per km
For further details of the area please contact Penrith Tourist Information Centre. A range of serviced and self catering accommodation in the Penrith area can be found in our accommodation section.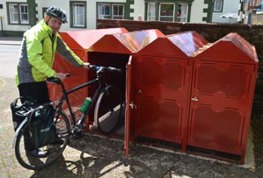 Cycle Storage Lockers
Cycle storage lockers are located outside Penrith Tourist Information Centre and Penrith Leisure Centre.  Ideal if you want to pop into town for something to eat or enjoy Penrith's great range of shops.
Keys are available from the TIC (a small charge is payable) and Leisure Centre.
Downloadable Penrith Cycle Routes: