Water Activities
Enjoy the thrill of a water-based activity in Eden with one of these outdoor adventure companies.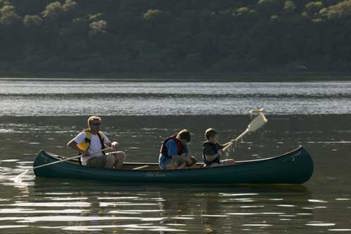 Eden Outdoor Adventures (Canoeing and Kayaking)
Telephone: 01768 881386 / 07525 653099
3 Currah Close, Ousby, Penrith, CA10 1AP
Website: www.edenoutdooradventures.co.uk
Eden Outdoor Adventures is registered with the Adventure Activities Licensing Authority.
Greene Adventures (Kayaking and Canoeing)
Telephone: 07917 755083
Email: admin@greeneadventures.co.uk
Website: www.greeneadventures.co.uk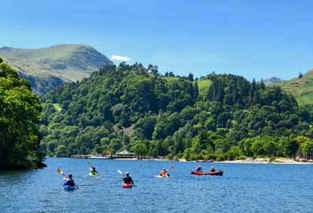 Tall Bloke Adventures (Kayak Tours)
Telephone: 0784 221 21 27
Email: info@tallblokeadventures.com
Website: www.tallblokeadventures.com


Ullswater Outdoor Adventures (Kayaking)
Telephone: 07908 884035 
Website: www.ullswateroutdooradventures.co.uk


Boat and Canoe Hire
Lakeland Boat Hire (Motor Boats, Rowing Boats and Canoe Hire)
River Mouth, Eusemere, Pooley Bridge, CA10 2NR
Telephone: 017684 86800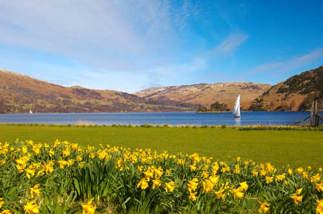 Email: info@lakelandboathire.co.uk
Website: www.lakelandboathire.co.uk
St Patrick's Boat Landing (Motor Boats and Rowing Boats hire)
Glenridding, Ullswater, CA11 0QQ
Telephone: 017684 82393
The Glenridding Sailing Centre (Sailing boat hire, Canoes, Kayaks)
The Spit, Glenridding, Ullswater, CA11 0PE
Telephone: 017684 82541
Email: info@glenriddingsailingcentre.co.uk
Website: http://glenriddingsailingcentre.co.uk/
Ullswater Yacht Club
Learn to sail on our beautiful lake. Ullswater Sailing School, which is part of Ullswater Yacht Club, runs a range of courses led by fully-qualified instructors.  Whether you are a complete novice or an accomplished sailor wishing to polish your skills. We are an RYA Training Establishment and part of the OnBoard scheme to encourage children to experience the thrill of sailing and have a fleet of different dinghies for hire. UYC is a family-friendly club and welcomes new members of all ages and all levels of experience. The club has a full programme of events and activities both on and off the water from March to November.
Ullswater Yacht Club, Howtown Road, Pooley Bridge, Penrith, CA10 2NA
Telephone: 01768 807450
Email: uycnewmembers@gmail.com
Website: www.ullswateryachtclub.org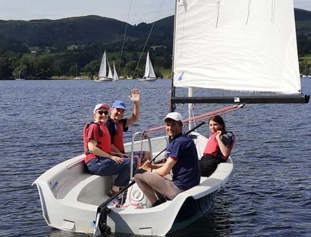 Ullswater Sailing School
Ullswater Sailing School is a Royal Yachting Association (RYA) Training Centre.  It is owned and operated by the award winning Ullswater Yacht Club. From April to October, we offer a full range of courses and taster sessions all taught by RYA qualified instructors in a wonderfully scenic and safe environment.
Ullswater Sailing School, Howtown Road, Pooley Bridge, Penrith, CA10 2NA
Telephone: 07826 382612 / 01768 807450
Website: www.ullswatersailingschool.com
Paddle Boarding
Stand Up Paddleboarding lessons, adventure tours and board hire on Ullswater.  Our instructors are qualified through the British Stand Up Paddleboard Association to ensure your safety and enjoyment at all times.
Ullswater Paddle Boarding
Telephone: 07810 880 932
Email: info@ullswaterpaddleboarding.co.uk
Website: www.ullswaterpaddleboarding.co.uk