Quality Information
Quality accommodation is a very important part of the visitor experience in Eden.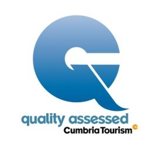 In recognition of this and for the benefit of our visitors, all accommodation featured in our 'where to stay' section has either a valid inspection certificate or has signed the Accommodation Quality Charter.     
Inspections are carried out by a recognised national external agency such as VisitEngland, the AA or by the local scheme Quality Cumbria.
If properties have not signed up to either a national or local scheme, they will have signed the Accommodation Quality Charter.  The Charter covers important areas such as legal considerations, health and safety and good customer care practice.  Accommodation featured will clearly display valid inspection accreditation and awards.
So you can be assured of a high standard of accommodation when you visit Eden.

Wheelchair Accessible Holiday Accommodation
A National Accessible Scheme has been developed that provides a set of standards which accommodation establishments are assessed and rated against. The assessment covers three types of impairment: mobility, hearing and visual.

The standards are designed to allow people with disabilities to make an informed choice about where they want to go on holiday to in the UK.
For wheelchair users or those who have difficulty in walking. All the places displaying one of the accessibility symbols have been assessed by an accommodation inspector against criteria reflecting the practical needs of wheelchair users. 
Our Accessible Accommodation gives more information on what to look for when booking your Eden accommodation.

National Schemes and Assessments
VisitEngland also provide a number of additional Welcome Schemes for the following: Pets, Families, Cyclists and Walkers. These schemes highlight operators that provide facilities and services to welcome certain groups.