Business Support and Engagement
Advice and Guidance
We offer advice, information and guidance to new, existing and expanding tourism businesses in Eden on a range of issues ranging from accommodation quality inspection schemes to marketing and PR.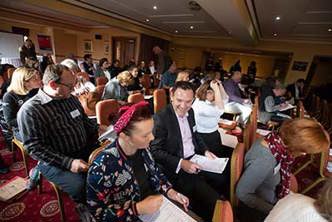 The Eden Tourism Network
The Eden Tourism Network brings together a variety of Eden tourism businesses and organisations who meet on a quarterly basis at venues throughout Eden. Why not join?

More information is available in our Eden Tourism Network section.


Eden Tourism Summit
We organise an annual Tourism Summit in October of each year on behalf of the Eden Tourism Network. Key national, regional and local speakers talk about the latest tourism developments, topics, trends and issues. Delegates also have the chance of taking part in a choice of practical workshop sessions led by experts in their field. 
Keep an eye on our Summit page for the latest updates on the 2022 Summit!
Social Media
We use social Media to promote Eden locally and nationally via Twitter, Facebook, Pinterest and Instagram @visit_eden  We are always happy to retweet and share your Eden related posts.

Trade Newsletter
Our Trade newsletter keeps businesses up to date with our latest news on a regular basis, letting them know what we are doing to promote Eden to visitors, both as a team and working in partnership with other organisations.  More information is available in our Trade e-newsletter section.


Eden Tourism Grants
The Eden Economic Development and Tourism Team offers a small tourism marketing grant for tourism related projects in the Eden District. There is a maximum of £500 available per project and applications can be made at any time throughout the year. 
More information is available in our Eden Tourism Grants section.


Tourism Research
We part commission STEAM research to show the value and volume of tourism in Eden.  View the latest headline figures for Eden in our Research section.
English Tourism Week
We support English Tourism Week every year by organising events to highlight the importance of the tourism industry to the Eden economy.  Find our about the latest developments in our English Tourism Week section.
Sustainable Tourism
There are several organisations in Eden and Cumbria who support and encourage sustainable tourism practices to help businesses reduce their carbon emissions.  Read more about this in our Sustainable Tourism section.
Westmorland Dales Landscape Partnership Scheme
The Westmorland Dales is the area of Eden district which falls within the Yorkshire Dales National Park.  As part of the Westmorland Dales Landscape Partnership Scheme, funded by the National Lottery Heritage Fund, we are keen to work with tourism businesses in the scheme area over the next few years to help promote the area sustainably and for local tourism businesses to benefit through a range of activities and support.


Coronavirus - Useful sources of information
Useful sources of the latest information for businesses are available on our Coronavirus webpage.


Brexit Information
Visit our Brexit webpage for further sector specific information for the tourism industry.

More information on Business Support and Engagement: