Family Walks
Eden is a great place to enjoy a walk with your family. There are many easy walks on level paths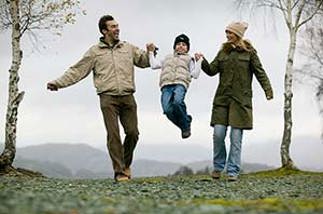 over short distances.
Have a look at our accessible walks section as these make good family walks.  
Town trails are often good fun for children too!

Patterdale and Glenamara Park Trail, near Ullswater
With views of Ullswater and the surrounding fells, this easy circular walk on gravel paths is suitable for all fitness levels. You'll also see some of the Lake District's most striking veteran trees, including stately oaks and alder, growing in the former deer enclosure of Glenamara Park.

Ullswater - Aira Force Walk
Try the Aira Force Circular Walk combined with a cruise on England's most beautiful lake - Ullswater with Ullswater 'Steamers.'  An excellent short walk developed by the Victorians with great views from the top and bottom of a beautiful waterfall. Watch out for the red squirrels!
The following walk has been kindly supplied by Ullswater 'Steamers.'  Visit their website for more walks and up to date sailing times. 
The Eden Valley Daffodil Walk
The Eden Valley Daffodil Walk is a picturesque walk through paths and lanes linking three Eden villages.  The walk is in memory of the lives lost to coronavirus.
The walk covers a six-mile route between Armathwaite, High Hesket and Low Hesket.  24,000 bulbs have been planted by the local community as a memorial to all those who died during Covid-19 (both directly and indirectly).  A species of narcissi have been especially chosen as they have nectar which will help the insect population along with the birds as well. 
The route will be marked with numerous areas of different species of daffodil displays.
The route will be accessible on foot or by car, and has public transport links at Low Hesket and Armathwaite.  Although, there are no public car parks on the route, the majority of which is on country lanes, there are places where a car can be parked at either end of the walk.
More information and map is available on the Eden Valley Daffodil Walk Facebook page.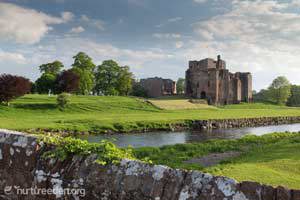 Brougham Castle, Penrith
Enjoy the beautiful countryside around Brougham near Penrith.  This relaxing walk follows the River Eamont, taking in the historic Brougham Hall and spectacular Brougham Castle which can be visited en-route. This walk has been kindly supplied by Lakeland Leisure Walks.  Their full range of walks are available to buy from Penrith TIC.
Eden Rivers Trust
Be inspired to get outdoors using the Eden Rivers Trust's educational activity sheets for primary aged children and their families.
There are 24 activities aimed at helping children develop essential learning skills whilst having fun outdoors exploring nature found at the river and beyond, at any time of year.  
Visit the Eden Rivers Trust website for more details.



Northern Viaduct Trust Walks, near Kirkby Stephen
Family friendly walks can be found on the Northern Viaduct Trust website.
Grand Days out on the Settle to Carlisle Railway
Take the stress out of travelling and planning your trip along the Settle-Carlisle Railway with their downloadable 'Grand Days Out' guides. These free guides contain a variety of short walks and suggestions of things to do and see at stations along the famous railway line.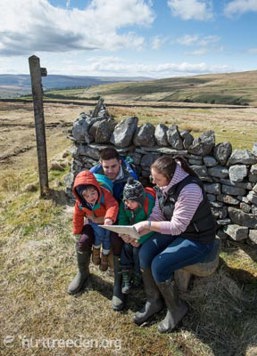 Kirkby Stephen Family Adventure Trail
Follow the Kirkby Stephen Family Adventure Trail (3K) which has lots to look out for along the route plus a long list of free and inexpensive family activities to keep everyone entertained whatever the weather.  You can pick up a copy of the Kirkby Stephen Family Adventure Trail from the Upper Eden Visitor Centre.
Kirkby Stephen Family River Trail (choose from a 1 hour or 2 hour walk)
Kirkby Stephen Community Arts and Stomping Ground have produced a family trail along the banks of the River Eden at Kirkby Stephen.  The trail includes lots of fun activities for families to do as they walk.  This trail was created as part of the At the Riverside project - a summer of fun activities by the river and the creation of an art installation - a shoal of fish, by the river. The project was supported by Eden Rivers Trust and the Heritage Lottery Fund.
The Brough Buggy Walk
The Brough Buggy Walk leaflet is ideal for families with small children, pushchairs and even wheelchairs.  There are alternative loops in Church and Market Brough.  You can pick up a copy of the Brough Buggy Walk from the Upper Eden Visitor Centre.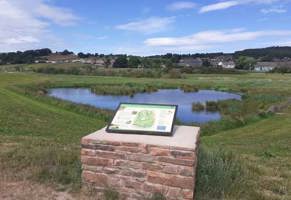 Thacka Beck Nature Reserve 
Thacka Beck Nature Reserve provides homes for a wealth of wildlife and is a lovely walk for all the family.


Church Trails around Eden
Discover Eden's religious past through these fascinating routes.  The Church Trails stop off at some of the area's most interesting and architecturally beautiful churches. 
Tale Trails
Tale Trails are local walks around Ullswater and the Eden Valley based around a fun story and a hand drawn map. Each Tale Trail has a map on one side and a fun story on the other which links to features on the map. Children can follow the colourful map and use the story to spot things and search for clues along the way!
Download The Grumbletrog of Cliburn Moss for an idea of what the trails are like. This is a unique 1km walk around the boardwalks and swamps of Cliburn Moss Nature Reserve.
Visit the Tale Trails website for more details. Trails are also available to buy from Penrith Tourist Information Centre.


Geocaching
There are millions of Geocaches hidden around the world - and there are lots to discover in Eden. Visit the Geocaching website for more information on the locations around Eden and get exploring!