Long distance bike rides
Lakes and Dales Loop

A 190 mile (305km) cycle route taking in two National Parks and some of the most scenic landscapes across Cumbria and the Yorkshire Dales.
The suggested start and finish point at Penrith is also easily accessible for cyclists travelling to Cumbria on the train via the West Coast mainline. 
The on-road circular route will appeal to a range of cycling interests and abilities, uses quieter lanes, following the boundary of the Lake District National Park on its north, west and south sides. It then completes the loop by linking the Lune and Eden Valleys to the east, and passing through the new extensions into the Yorkshire Dales National Park.
A downloadable map of the full 190 mile route is available on the Lakes and Dales Loop website.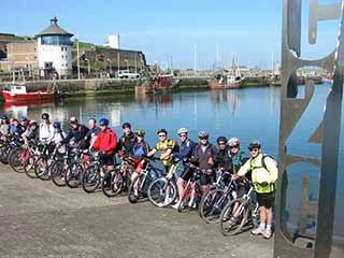 Sea to Sea (C2C) Cycle Route
140 miles (225km) from Irish Sea to North Sea, probably the UK's most popular cycling challenge.

Between Threlkeld in the Lake District and Nenthead in the North Pennines (about 45 miles) the route is in Eden. Penrith and Alston are popular overnight stops. Use parts of National Routes 7 and 71.
Buy the official map from Penrith and Alston Tourist Information Centres or visit the Sustrans website for more information.

If you are riding the Coast to Coast through Greystoke, please take extra care as there is a racing stables in the village and horses may be out on the roads.
Walney to Wear and Whitby (W2W) Cycle Route
A 'coast to coast' adventure to the south of the C2C route between Cumbria's Walney Island and either Wearmouth in Sunderland (150 miles / 241km) or Whitby (176 miles / 283km).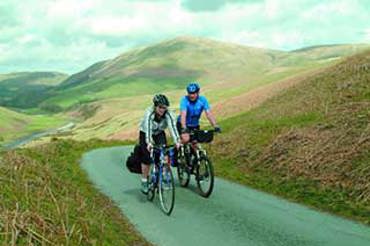 From south of Orton across the Orton Fells and Eden Valley, almost to the top of Tan Hill in the North Pennines, the route is in Eden. It's Regional Route 20.


Pennine Cycleway
This is the National Cycle Network's longest route. It runs for 355 miles (571km) between Derby and Berwick-upon-Tweed on quiet country lanes and tracks through the Peak District, Yorkshire Dales and Northumberland National Parks.
The official map for the 150-mile (241km) section from Appleby-in-Westmorland across the North Pennines to Berwick (with a spur from Penrith) is available from Appleby and Alston Tourist Information Centres.  It's National Route 68.
The Sustrans website has further information on the Pennine Cycleway. The website also has more details about the National Cycle Network - a series of traffic-free paths and quiet, on-road cycling and walking routes, that connect to every major town and city.

Wheels to the Wild Cycle Route
A 76 mile (122km) route on quiet country lanes around the North Pennines; Britain's first European Geopark as well as an Area of Outstanding Natural Beauty.  The route includes Garrigill, Alston and Nenthead in Eden.

The detailed guidebook is available from Alston Tourist Information Centre.