History and Heritage of Penrith
Early History
Penrith grew up at the crossroads of several important routes. The castle and the narrow roads and yards were built as defences against raids from the north. With its central location, Penrith developed as a market town for the surrounding area. The town retains much of its medieval layout.  The wide open spaces where animals and agricultural produce were sold, contrast with small yards, often bearing the names of former inhabitants.
The Penrith and Eden Museum is housed in the old Robinson's School building, which was established in 1670 for the education of poor girls.  For more information on the Museum visit our Penrith and Eden Museum webpage.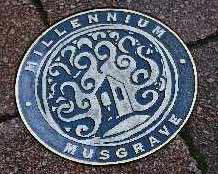 The Coronation Garden was created as a community garden in 1938, to celebrate King George VI's Coronation. After being neglected and underused over the years, regeneration of the garden has been carried out as a partnership between the Rotary Club of Penrith, (to celebrate the centenary of Rotary International), and Eden District Council with funding from the Heritage Lottery Fund (HLF) and Eden District Council.
Work to the garden included restoring some of the original features, creating raised beds, a sensory garden, sculptures, adding lighting and a time line of the history of Penrith.
The garden incorporates a number of original features that relate directly to the heritage of Penrith. Its layout was designed to incorporate the shape of St Andrew's Cross, on which the town's coat of arms is based in recognition of Penrith's close links with Scotland.
Famous Connections
Richard Duke of Gloucester, the future Richard III, was granted the manor of Penrith.  The future king lived at Penrith Castle for periods between 1471 and 1485. Our Richard III webpage has more information on his links to Penrith

William Wordsworth, the poet, attended the school in the Tudor house near Saint Andrew's Church. A leaflet detailing Wordsworth's connections with the town is available at Penrith Tourist Information Centre

Samuel Plimsoll (1824-1898) spent 10 years of his childhood in Penrith. He was influential in the passing of the Merchant Shipping Act of 1876 and the painting of 'Plimsoll lines' on ships, to prevent overloading

Bonnie Prince Charlie lodged in part of the George Hotel, formerly the George and Dragon Inn, in November 1745 on his way south in an attempt to regain the throne for the Stuarts
Percy Toplis, 'The Monocled Mutineer', was shot dead by police north of Penrith and buried in an unmarked grave in the cemetery. There is a display about him in the museum
Historical Landmarks
Penrith has many historical landmarks, including St Andrew's Church, Penrith Castle, Beacon Pike or Tower and the Musgrave Monument.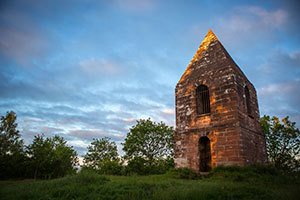 Read more about these on our Penrith Landmarks webpage.
Penrith Heritage Trail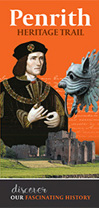 Download a Penrith Heritage Trail and discover more about Penrith's fascinating history. 
The Eden Heritage Trail app will give you lots of information on the main heritage sites.