Penrith and Eden Museum
A brief history of Penrith and Eden Museum
Penrith and Eden Museum is housed in the old Robinson's School building, which was established in 1670 for the education of poor girls.  The building continued to be used as a school for three hundred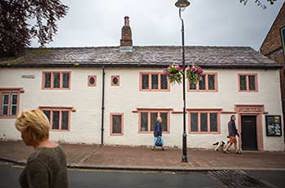 years.
It now houses Penrith and Eden Museum and Penrith Tourist Information Centre (TIC).  
Robinson's School building, home to Penrith and Eden Museum, has a long and interesting history dating back to the year 1670.  The building celebrated its 350th anniversary in 2020.  The museum is owned and managed by Eden District Council.


Plan your visit
Admission to the Museum is FREE and the Museum is open Monday to Saturday 10am to 4pm (closed Sunday).
The Museum has Visit England's 'We're Good to Go' accreditation.  This is a trusted mark that a tourism or hospitality business has worked hard to follow Government and industry COVID-19 guidelines.


Explore the Museum Collections
Some of the Museum Collections date from the town's first Museum, founded in 1883. Inside you can explore the archaeology, art, social, cultural and natural history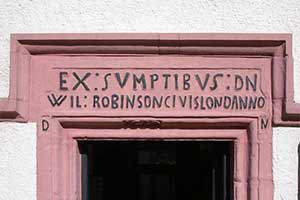 and  geology of Penrith and the surrounding area.
On display, for example, from the sandstone of the Eden Valley, is a fossil footprint of a creature which lived

before the Dinosaurs.  There are also objects from the Stone Age and a range of finds from the Roman period.  This includes the hoard of Roman coins from Newby, near Shap and a piece of Roman gold jewellery from Brougham. 
A gallery is dedicated to exploring the Neolithic age in the Eden Valley.  A fascinating short film by Aaron Watson 'Stones from the Sky', can be viewed all about Cumbrian Neolithic stone axes. 
The medieval seal of Penrith and the old market toll measures are on display. There are also mementos of the Crimean War hero Trooper William Pearson, local wrestling celebrity William Jameson and Percy Toplis the 'Monocled Mutineer.'
Another gallery features the geology of the area.  There are displays of local minerals and fossils, a 'spar box' and some tools from a local mine.
Some art is displayed including iconic works by the Victorian Penrith painter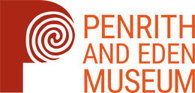 Jacob Thompson and other local artists, past and contemporary.
Further details of the Museum's Art collection can be found on the Art UK website.

An Accredited Museum

Penrith and Eden Museum's application for renewal of its Accreditation status by Arts Council England (ACE) was successful in 2018. The Accreditation scheme is the national agreed standard for museums and galleries in the UK.
The Museum is now an Arts Award supporter, offering activities that young people can use towards their Arts Award. These include workshops, arts and cultural events which they can review, opportunities to find out about artists and cultural opportunities and a chance to share skill.


Penrith - A Historical Record in Photographs published by Penrith and Eden Museum
The book Penrith - A Historical Record in Photographs published by Penrith and Eden Museum can be purchased at the special price of £8.  The book is illustrated in colour and black and white (hard back, 159 pages). 

Books can be purchased from Penrith TIC.  Mail order is also available for £4.50 p&p per book.

For more information please contact Penrith TIC by either calling 01768 867466 or emailing pen.tic@eden.gov.uk 


Special events and activities
In addition to displaying items of local interest, the museum organises a varied programme of special events and activities throughout the year. There are also 'finds days' where a Portable Antiquities Officer visits the Museum to examine and identify your 'finds.'


Learning and Education
The Museum also holds education workshops for local schools and community groups.  The Museum has been awarded the Learning Outside the Classroom (LOtC) Quality badge.


The Friends of Penrith and Eden Museum
The Friends of Penrith and Eden Museum are an independent group who meet between September and April and host talks on subjects of local and national interest. They support the Museum, assist in the acquisition of local exhibits and give talks on local history. Visitors are always welcome to meetings.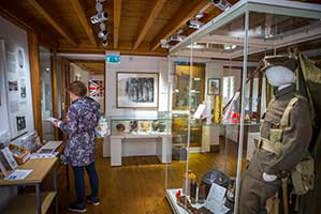 What visitors say
Visitors to the Museum are from far and wide, with visitors from Europe and beyond including the USA, Canada, South Africa, Brazil, Australia and New Zealand. The visitors book has some lovely comments from visitors such as "little gem," "hidden treasure," "what a wonderful surprise," "a lovely little Museum," and "worth a visit."
Read the TripAdvisor reviews for the Museum.
Access
There is disabled access to all ground floor galleries. The upper floor 'Ages of Eden' geology display can be seen from a ground floor computer kiosk. An illustrated and descriptive printed guide is also available. A hearing induction loop is installed in the galleries.


Contact Penrith and Eden Museum
Robinson's School, Middlegate, Penrith, Cumbria, CA11 7PT.