Penrith Landmarks
Penrith Castle is thought to have been built at the end of the 14th century. Additions to the structure were made in the 15th century, including a banqueting hall built by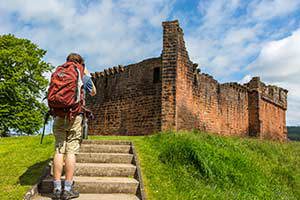 Richard, Duke of Gloucester - the future Richard III. However, by the mid 16th century it was a ruin and the stone was being carted away for a new town gaol.
Penrith Tourist Information Centre has a Richard III Penrith Trail leaflet for those wanting to find out more about his connections to Penrith.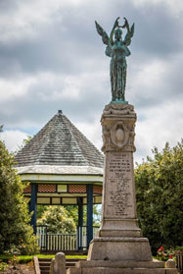 The War Memorial Gateway is a prominent feature at the main entrance to Penrith Castle Park, along with the Black Angel Memorial to those who lost their lives in the Boer War. This was moved to the park from Corney Square, Penrith in 1964 because of concerns that it was being damaged by traffic pollution.
St Andrew's Church with its Georgian nave and medieval tower, has been described as 'the stateliest church of its time in the county'. In the churchyard near the tower are the Giant's Thumb and Giant's Grave comprising 10th century crosses and pre-Norman tombstones. Though linked by tradition, both to a legendary giant and a 10th century king of Cumbria, their origins are shrouded in mystery. 
Beacon Pike or Tower was built in 1719 on the site where for centuries, fires have been lit to warn of impending danger. From the top, there are extensive views across Penrith to the Lake District fells, Solway Firth and the mountains of Scotland.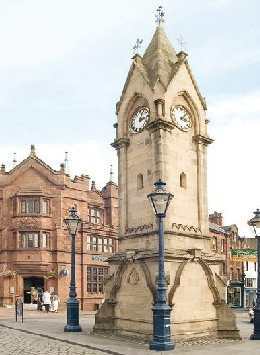 Musgrave Monument, Penrith's distinctive clock tower standing in the Market Square.  It was erected in 1861 as a tribute from the town to Sir George and Lady Musgrave of nearby Eden Hall, in memory of their eldest son.
A bequest of William Robinson, a Penrith-born merchant who made his fortune in London, provided for the establishment in 1670 of a school.  Robinson's School is now home to the Tourist Information Centre and Penrith and Eden Museum.