Farmers' Markets
For centuries, farmers made the trek into a town or village to sell their produce at market. The lively markets provided essential food supplies and were an important focus for the local community.
Today, Eden's colourful Farmers' Markets are helping to revive that tradition, by providing quality local produce, sold by the people in the know - the farmers, growers, bakers and makers themselves.


Brough Farmers' Market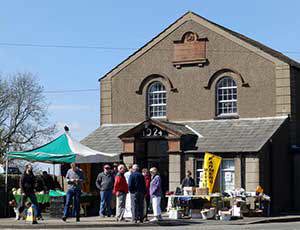 Held on the third Saturday of each month from 9.30am to 2pm all year round.
Brough Farmers' Market is held indoors in Brough Memorial Hall in the centre of the village.  Stalls offer produce of the highest quality, with a truly local flavour. 80% of the farmers and producers trading at the market, live within 30 miles of Brough. All of them are enthusiasts; happy to talk about their produce.
For further information visit the Brough Farmers' Market Facebook page.


Orton Farmers' Market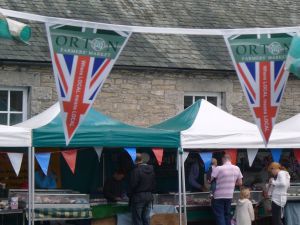 Held on the second Saturday of each month all year round from 9.30am to 2.30pm
Orton is a traditional fell farming village that nestles in the heart of Eden.  This normally tranquil village is transformed on market day by the sights, sounds and smells of a thriving country market.
At Orton Farmers' Market over 35 local farmers, growers, producers and artisan craftsmen offer a tremendous variety of high quality and speciality local produce and crafts.
There is live music at most markets, special events such as cookery demonstrations, an award winning chocolate factory on the doorstep and parking for the disabled.  A trip to the award winning Orton Farmers' Market is a great day out for the whole family.
For further information visit the Orton Farmers' Market website.


Penrith Farmers' Market
Held on the third Tuesday of each month from March to December from 9.30am to 2.30pm in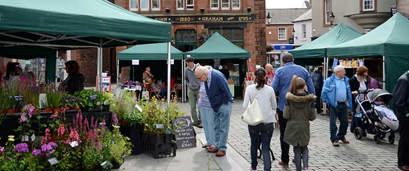 Penrith.
The attractive colourful stalls entice the discerning shopper, keen to buy fresh local food, while learning where it came from and how it was grown or made. The stallholders, a number of whom are award-winning producers, are also keen to offer a wealth of food know-how and recipes for their produce.
Penrith Farmers' Market offers a tempting array of local specialities, seasonal produce and distinctive crafts, all within the heart of town. There are individual specialist shops, varied eating places and parking nearby.  A visit to the historic market town of Penrith is well worth adding to your shopping list.

For further information email markets.corporate@westmorlandandfurness.gov.uk 
Shap Farmers' and Makers' Market
Takes place on the fourth Saturday of the month. March to November and the third Saturday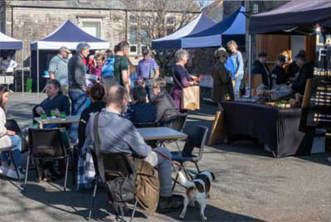 of the month in December.
It started as a new venture in 2021 and hosts a good variety of quality food, plant, art and craft stalls making it an excellent place to shop for produce and gifts.  Live music takes place on the terrace at The Old Courthouse which regularly hosts exhibitions in its Exhibit 'A' Gallery. The Market is a joint initiative between Shap Parish Council, Shap Memorial Hall and Shap Community CIO (The Old Courthouse).  The aim is to provide local producers and artisans with an opportunity to showcase and sell their goods and to stimulate the local economy by attracting local residents and visitors to the markets.
Lying between the eastern fells of the Lake District, including High Street, and the limestone pavements and Howgills scenery of the Westmorland Dales, Shap is a great location from which to explore the area. The A6 passes through the village and the village is only 3 miles from the M6 (Junction 39).  The market is held centrally in Shap village and is based at two sites in close proximity to one another – Shap Memorial Hall and The Old Courthouse.  SAT NAV: CA10 3NL
Both venues have disabled access and toilet facilities.  There is free parking in the public car park and additional road side parking.  
For more information visit The Old Courthouse website.

Stainton Farmers' Market
Held on the third Saturday of each month at Stainton Village Hall Stainton, Penrith 9.30am to 12.30pm.

For more information visit the Stainton Farmers' Market Facebook page.
Eden Weekly Markets
Eden towns have chartered market days which welcome local traders to showcase their wares weekly.