The Tour Of Britain 2021
The Tour Of Britain came to Eden on Friday 10 September 2021 with intermediate sprints in Motherby and Penrith!
Stage Six from Carlisle to Gateshead retraced large parts of the popular Sea to Sea route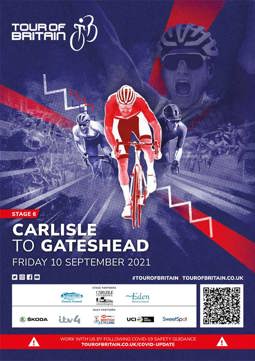 before finishing in the shadow of the world-famous Angel of the North.  The stage began in Carlisle and travelled to Eden through Greystoke and Motherby. It headed towards Ullswater, passing through Watermillock and Pooley Bridge before it travelled through Penrith and out to Langwathby and Melmerby.  It then headed off to tackle the SKODA King of the Mountains climb at Hartside - which was used as a stage finish in the 2015 Tour - before going through Alston and Nenthead.  

Two further ŠKODA King of the Mountains climbs followed soon after in the heart of the North Pennines AONB - at Killhope Cross and Burtree Fell - as part of the 3,000 metres of elevation gain that features in this stage. Although Gateshead has previously hosted two stage finishes of the race, this will be the first to culminate alongside Sir Antony Gormley's famed sculpture.
The parish of Alston Moor, Cumbria County Council and Alston Moor Film sponsored the making of this collage of video and stills - from members of the community and some visitors.  You can watch the video on Vimeo.

Cycling in Eden
If the Tour of Britain has inspired you to get on your bike, Eden has some fabulous routes to explore with some stunning scenery along the way.  Visit our Cycling in Eden section for more information. We also have some great cycling routes for Appleby and Kirkby Stephen, Alston and the North Pennines, Penrith and Ullswater.