Walking leaflets and OS Maps
This is just a taster of the walking books, leaflets and maps available for Eden.  For the full range, contact one of the Eden Tourist Information Centres.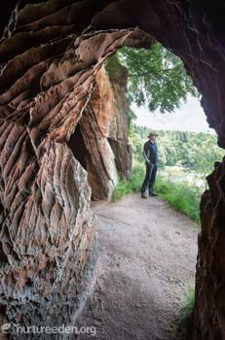 Walking Leaflets
Discover Eden Walking Series
This is an excellent series of walks in Eden, originally produced by the East Cumbria Countryside Project.


Walks in Eden include:
Brougham and Eamont Bridge trail (3¾ miles/6 km). A walk with two rivers, a Roman fort, a castle, a fortified manor house, and two ancient henges
Church Brough Walk (6¼ miles/10km). A walk through an ancient farmed landscape, with two churches, a Norman castle, a river, a pub and a castellated folly.  There are stunning views every step of the way.
Crosby Ravensworth Walk (3.5 and 6 miles/ 5.5km and 10km).  A walk with a church, a ruined 14th century tower house, lost villages, heather moors and woodland, and the source of the River Lyvennet
Appleby-in-Westmorland, Hoff and Great Ormside Walk (7 miles/11km).  A walk with a castle, two churches, two rivers, two water mills and a waterfall
Kirkby Stephen, Ewbank Scar and the Nine Standards Walk (4 3/4 miles/7.5kms). A walk with a small cathedral, a Viking god, exotic parrots, wild woods, a towering limestone cliff and nine mysterious cairns
Ravenstonedale and Smardale (7.5 miles/12km). A walk with two nature reserves, three pubs, an ancient church and priory, a flower rich meadow, a meandering beck, Giants' Graves and a railway viaduct
Shap and Rosgill (4.5 miles/7.5km).  A walk through cattle country with the River Lowther, mysterious earthworks, standing stones and the ruins of an Abbey.  There are spectacular views of the Lake District mountains
Lacy's Caves Walk (4.5 miles/7km). A walk discovering a water mill, the river, a hermit's cave, a lost village, a church and a druids' circle
The Lacy's Cave walk is available to download from the Eden Rivers Trust website.
Mallerstang, Wild Boar Fell and Pendragon Castle Walk (5¾ miles/9kms).  A walk along an ancient green highway with mountains, an iconic sculpture, a deep gorge, a waterfall, the Settle-Carlisle railway, and the infant River Eden

Walking leaflets for Alston
The following leaflets are available to purchase from Alston and Penrith Tourist Information Centre.
Alston's Nent Valley - (3 miles/4.8km, 1.5 to 2 hours). Alston Moor offers clear air and magnificent views which contrast with the industrial archaeology of its mining past. Much of this is evident on the quiet, pleasant walk along the River Nent to Blagill, returning to Alston on a medieval road, now a bridle path


Annat Walls and Nattrass Gill - (4 miles/6.5km, 1.5 to 3 hours). Through fields and past farmhouses, this walk gives you a chance to see at close hand the farming life of Alston Moor. There are magnificent views of the surrounding countryside, the tumbling stream of Nattrass Gill, a most interesting variety of flora and evidence of Alston's past


Of Poaching and Poss-Sticks - (4.5 miles/7.2km, 2 to 4 hours). This exciting walks takes you to a waterfall behind which you can join dancing fairies.  It returns along the River Tyne with a wealth of plants and birds to be seen. The mining and smallholding history of Alston Moor comes alive in the landscape


Gaining Ground - (2 miles/3km, 1 to 2 hours). Your walk takes you through four areas that are owned and administered for the benefit of the population of Alston Moor.  This walk gives you a glimpse into the strong community ethic that pervades life here


A Walk Around Alston - (1 mile/1.5km, 45 minutes to 1 hour).  This walk gives you a glimpse of Alston town's fascinating history.  There's an option to double the walk length to take in the South Tynedale Railway.


Garrigill Village Walk - The now-tranquil village of Garrigill was once a major lead-mining centre. Explore the village on a short stroll (on road surfaces) which will introduce you to the history and present life here


Water Power in Alston - (1.5 miles/2.4km). One small stream was channelled to provide power for many mills.  This walk follows the course of the mill race through Alston


South Tyne Trail - follows the route of the River South Tyne from the source to Haltwhistle. Open to walkers and cyclists it is almost 23 miles (36.5km) long.  It is a fantastic way to experience the North Pennines



OS Maps covering Eden
OL 5 The English Lakes North Eastern Area - OS Explorer (1:25 000 scale)
OL 19 Howgill Fells and Upper Eden Valley - OS Explorer (1:25 000 scale)
OL 31 North Pennines - OS Explorer (1:25 000 scale)
OS 86 Haltwhistle and Brampton Landranger (1:50,000)
OS 91 Appleby-in-Westmorland Landranger (1:50,000)
OS 90 Penrith, Keswick and Ambleside area Landranger (1:50,000)


Available from Eden Tourist Information Centres and from Eden's Outdoor Shops. The full range of OS maps is available from Penrith Tourist Information Centre.
Wainwright's Guides
The Wainwright Guides (Pictorial Guides to the Lakeland Fells) describe and illustrate the Wainwright walks.
Eden's part of the Lake District also contains numerous other fell walks that feature in Wainwright's popular pictorial guides for 'The Northern Fells', 'The Eastern Fells' and 'The Far Eastern Fells'. 
The Wainwright guides are available to buy from most Eden Tourist Information Centres, and in Eden's Outdoor Shops.  Alternatively visit The Wainwright Society website for more information.