Villages and Viaducts Ride
The only ride in this section with some traffic-free sections, including the shared use dismantled railway route over two viaducts,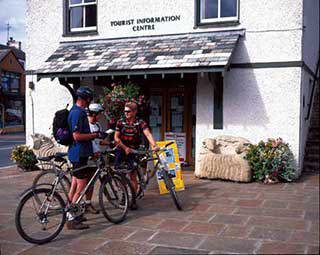 once part of the coke carrying Stainmore Railway (more details from www.nvt.org.uk). You've also the option of a short walk to the dramatic disused Smardale Gill Viaduct through a national nature reserve.
The route, climbing steadily over to Smardale at first, links five village, crosses a ford (footbridge alternative) and runs on a grassy track to where Scandal Beck and the River Eden meet. Partly on National Route 71 and the Walney to Wear and Whitby Cycle Route (20).
Start/finish: The Upper Eden Visitor Centre, Market Square, Kirkby Stephen (see town plan) in the town centre (free car parking is signed)

Distance: 12.4 miles (20km)

Grade: Medium - Hard (on and off road)

Refreshments: Pub in Winton

Go prepared for a waterside picnic

Public loos: Kirkby Stephen


Download this cycle route and map:
Further information 
The Upper Eden Visitor Centre, Market Square, Kirkby Stephen
Telephone: 017683 71199 
Email: visit@uecp.org.uk
Appleby Tourist Information Centre, Moot Hall, Boroughgate
Telephone: 017683 51177
Email: tic@applebytown.org.uk