Penrith Castle Park
Penrith Castle Park takes its name from the neighbouring Penrith Castle.  The Castle was once the home of Richard, Duke of Gloucester, later Richard III. Surviving to their full height, the castle walls stand within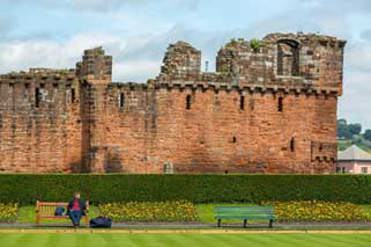 Penrith Castle Park. 
Entry to Penrith Castle is free and the Castle is well worth a visit.
Penrith Castle Park is attractively laid out with rose gardens, flower beds, mature trees and grass areas.  It is ideal for a stroll or a picnic and there is ample seating. Dogs are allowed in Castle Park as long as they are kept on a lead.
The Park has a children's play area with play equipment.  There is putting and obstacle golf, tennis courts, a bowling green and bandstand. There is a small charge for the equipment provided for putting and golf facilities.  The Park Café is open during the Summer months for hot and cold food, drinks and ice creams.  There are toilet facilities in the Park.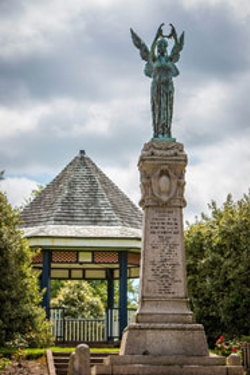 The wide open spaces are good for running about and burning off some energy.
A prominent feature at the main entrance of the Park is the War Memorial Gateway, which was opened in 1923.
Within Castle Park stands the Black Angel Memorial - a tribute to those who lost their lives in the Boer War.  The Black Angel was moved to the Park from Corney Square in Penrith in 1964. This was due to concerns that it was being damaged by traffic pollution.

Plan your visit
The Park is open daily and entry to the Park and Castle is free.
31 March to September: 7.30am to 9pm or dusk
October to 30 March: 7.30am to 4.30pm or dusk

How to find Penrith Castle Park
The Park is opposite Penrith Railway Station which is on the main west coast London to Glasgow railway line.  Buses and Taxis are also available.  For details of all public transport visit the Traveline website.


Access and Parking
There is access for pedestrians from Ullswater Road (opposite the Station), Castle Drive and Castle Terrace. Disabled visitors can also access the park area from the Ullswater Road entrance.
There is some public on-street parking available on Ullswater Road outside the Park. 
If you are planning to explore Penrith town and require longer stay parking, visit our Town Map webpage for details of the Car Parks in Penrith.


Please be a good park user
Please use the litter bins provided or take your rubbish home with you
Please clean up after your dog
Please consider other park users


What visitors say
Read the TripAdvisor reviews to find out what visitors think about Penrith Castle and Park.
More information
For further information, contact Penrith Tourist Information Centre.