Alston Heritage Trail
This Trail has been extracted from the Alston Heritage Trail leaflet which we produced in partnership and with funding from Historic England, along with the Eden Heritage app.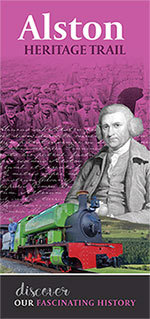 All the places mentioned here are open to the public, and most are easy to access by car, public transport or on foot. Some sites are free to visit; whilst others have an admission fee.

The map indicates the locations of all the key sites. The wording next to each entry indicates the facilities available.  If an asterisk* is shown after a symbol it means that the facilities could have restrictions, eg limited wheelchair accessibility, parking nearby or dogs only allowed in certain areas.
There is no suggested start point or trail to follow; rather the aim is for you to explore Eden's historic attractions at your leisure.

Download the Alston's Heritage Trail
Eden Heritage Trail App
To find out more about the fascinating history of the Alston area, download the Eden Heritage app, which will give you lots of information on all the main heritage sites.
Further information
Alston Tourist Information Centre (located in the Town Hall) holds a wealth of information on the local area. Call in for friendly help and advice; telephone 01434 382244 or email alstonlocallinks@westmorlandandfurness.gov.uk 
A copy of the Alston Heritage Trail and Heritage Trails for Kirkby Stephen, Appleby and Penrith are available from Eden's Tourist Information Centres.