Shopping and Places to eat around Alston and the North Pennines
Alston Moor is an unique place to stay, and range from hotels, guest houses and bed and breakfasts (B&Bs) to self-catering cottages - many with great views and there's a Youth Hostel in the town.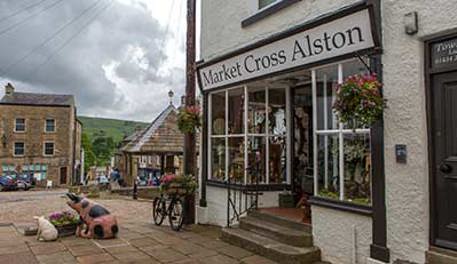 Old-fashioned values mingle with up-to-date technology, excellent facilities and a friendly welcome from the inhabitants who value their lifestyle.  Visit Alston Local Links where you will find not only a wealth of information, but library services, internet access, local books and crafts for sale.
Alston Moor was given the first "Social Enterprise Town of the Year" award in 2013, recognising the many small businesses such as Alston's local artisan bakery and wholefood shop and Nenthead's community shop as well as the community gym and film club.
You will also find supermarkets, cafes, hotels, and a range of independent shops including a greengrocer, fish and chip shop, ironmonger, outdoor clothing outlet, bookshop and gift shops. 
In Garrigill, you will find an artist's studio and post office, whilst in Nenthead, as well as the community shop, there is a bike repair shop, post office and pub.
Where to Eat in and around Alston
Alston has a good range of places to eat including hotels, pubs, tea rooms and cafes.  Relax in one of the friendly cafes and visit the art, glass and ceramic galleries and the cane workshop - a cluster of unique shops around Alston's market square.  Nearby, look out for the ceramic panels at the entrance to the Butts from the market cross.  These were made by local potters as part of a community arts project.
Make the most of your surroundings; be inspired to participate in a local creative workshop during your stay or plan your visit around an event.
Whichever season you choose, even a short break in this special place will be a complete escape from the stresses of everyday life and you may not want to leave.....