The Winter Droving 2023
The Winter Droving will return to the streets of Penrith on Saturday 28th October 2023.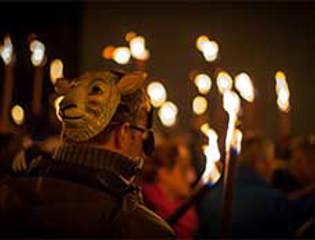 Event Date
28 October 2023
12:00 AM
£
Description
Each year Penrith in Cumbria marks the end of the harvest season and the beginning of the "darker half" of the year in a celebration of light, fire and rural life. The festival, whose motto is "turn your clocks back 400 years", is a staple of the autumnal calendar in the north of the north of England, with its tones of Sawhain, its fire and animal effigies and masks.
The Winter Droving epitomises all things Cumbrian; animals, fire, good food and community spirit. 
Each year Penrith's streets become something like a medieval market with traditional mulled wine and hot chestnuts, alongside the finest local produce.  This includes a wide range of world foods, vegan and vegetarian cuisine, giftware, local artists' works, quirky clothing and charity stalls.
The Winter Droving offers up an array of masked musicians, street performers, giant animal lanterns and locals dressed in elaborate costumes in a unique celebration steeped in tradition. The day begins at 12noon with a fancy dress competition for dogs, while the rest of the town blossoms, showcasing live musicians, street performances, drumming bands and carnival street shows before the eagerly awaited parade. All of this and a diverse range of market stalls.
Between the fancy dress for dogs and the lantern finale and Baghdaddies the feast of street entertainment includes walk about and static street acts with Able Mabel, Felicity Footloose, Sporticus Athleticus, The Carpeters, super slack rope with Kwabana Lindsay, Darryl Carrington, African Acrobatic Circus, Matrix Circus, Blast Furness, Bjamba, Street Beats, Drum Nation, local shanty with Nobody's Friend….. AND music from ska band Guns of Naverone, multi-national Turkish and eastern turbo folk with The Odd Beats, funk hip-hop from Ant Thomaz, folk blues and country with AJ Potter, and welcome returns from Delagrave, Uncle Carbuncle, Another Mister and BAAB.  And as if that isn't enough the Disco Tractor is back with an afternoon of scrumptious sounds from DJs The Farmer, LSD-Licious, and Rose Greenwood.
Created by Eden Arts, The Winter Droving has become one of Cumbria's iconic cultural events seeing 20k+ attend annually.
Don't forget your mask!
A schedule for the day is available on the Eden Arts website.

Parking is available in the towns car parks - a list of which can be found online (excluding Mansion House Car Park).  Additional parking will be available free of charge at Ullswater Community College, Wetheriggs Lane, Penrith CA11 8NG.

The Drovings are made possible through funding from Arts Council England, Westmorland and Furness Council, Penrith Town Council, Penrith BID, plus key support from main sponsor, the Leo Group, and partnerships with Ast Signs, Penrith Chamber of Trade, theidol.com plus a multitude of event sponsors.
Address
See on map