Running
Running has become increasingly popular and offers a whole host of personal benefits including improved personal fitness.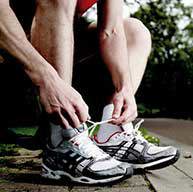 Running is also an exhilarating way to enjoy Eden's scenery and get out in the fresh air.  Whether you are a lone runner, beginner runner, social runner, club runner, town or off-road runner there is something for you.


Running Opportunities in Eden
Ready2Run Eden - Monday evenings 7pm at Penrith Rugby Club

Ready2Run Eden was launched in 2016 and is open to everyone. Whether you're an absolute beginner or trying to get back after a long lay-off, this is the place to start.  Pop along to Penrith Rugby Club on Monday at 7pm - everyone is welcome.  

Penrith Parkrun - Every Saturday at 9am, Frenchfields Sports Centre,
Penrith
Penrith Parkrun takes place every Saturday morning and is open to everyone.  It is a free 5km run (but register first!) - you against the clock - and open to everyone.  The Parkruns are organised by volunteers and everyone runs for their own enjoyment. For more information visit the Penrith Parkrun website.


Running Events and Triathlons
Eden hosts many running related events including the Helvellyn Triathlon.  There is also a Eden Valley Half Marathon, the Dalemain Estate Trail 10 and Lakeland Trails held in Ullswater and Helvellyn for the more experienced runners.


Running Clubs