Walking Help
Make sure you are fully prepared when you are going out walking for a gentle stroll or a challenging walk up Helvellyn. This page has all the information you need and key contacts to make sure you are fully prepared.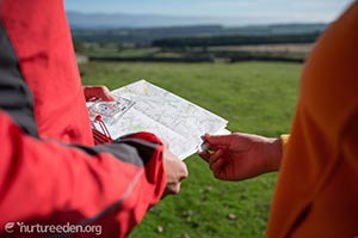 Before you set off
Check the weather forecast and conditions
Weather conditions on the fell tops can change very quickly so it pays to go well prepared when walking on them. Check the weather forecast and conditions before you set off. Consider the time of year and terrain and choose your route accordingly.
Charge your mobile phone before you set off
Many accidents occur towards the end of the day when both you and your phone are low on energy.  You can also check your mobile phone reception coverage before your trip on the fells.


Leave your route plan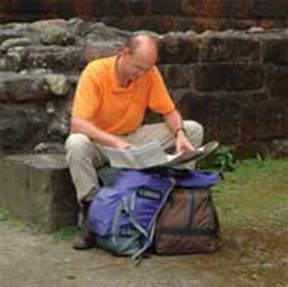 It's a good idea to leave details of your route at wherever you are staying or with friends. Include start and finish points, when you expect to return and your contact details.
The Mountain Rescue website also gives advice for fell and mountain users on how to stay safe on the fells.


Prepare yourself for the walk
Wear suitable clothing and footwear
Make sure you are wearing the correct walking boots with adequate tread and support.  Wear warm, waterproof and windproof clothing - layers work best.  Always carry a spare set of clothes, gloves and hat - even in Summer.
If you are in doubt what to wear, seek advice from an Eden Outdoor Shop. 

Take plenty of food and drink with you
High energy food such as chocolate and dried fruit are ideal or hi-energy bars can be bought from Outdoor Shops in Eden.    


Essential Kit to take
Map and Compass
A mobile phone - fully charged. But don't rely on your mobile as in many areas of the mountains there is no signal 
Whistle - the signal for rescue is: Six good long blasts in a minute. Stop for one minute. Repeat
Carry on the whistle blasts until someone reaches you and don't stop because you've heard a reply - rescuers may be using your blasts as a direction finder
Torch - with spare batteries and bulbs
Watch - make sure at least one person in your group has one
In Winter conditions take an ice-axe and crampons and be sure you know how to use them; as well as a survival bag and spare clothes


Safety on the Fells
Keep an eye on the weather: If conditions deteriorate be prepared to turn back.
Keep an eye on the rest of your party: If you are walking with a group, keep together and allow the slowest member to set the pace.  Take care of the youngest and weakest members of the group when walking in dangerous places.
Watch out for signs of hypothermia: The weather can change quickly and children and older people are especially susceptible to hypothermia.  Look out for signs of shivering, disorientation, tiredness and loss of circulation in toes and hands.
If you are walking alone: Be particularly aware of additional risks.  Let people know your planned route and stick to it as far as you can.
The Mountain Rescue website also gives advice for fell and mountain users on how to stay safe on the fells.


Be AdventureSmart
Be AdventureSmart by asking three questions before heading out:
1. Do I have the right gear?
2. Do I know what the weather will be like?
3. Am I confident I have the knowledge and skills for the day?

More information on how to be AdventureSmart and lots of helpful safety tips and advice can be found on the AdventureSmart website.
Follow the Countryside Code
Help us all to respect, protect and enjoy our countryside by following the Countryside Code when you are out walking: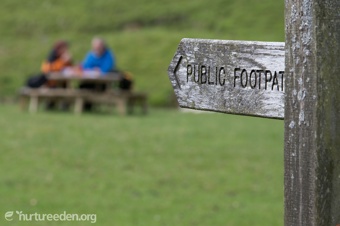 Be safe, plan ahead and follow any signs
Leave gates and property as you find them
Protect plants and animals and take your litter home
Keep dogs under close control
Consider other people

Look after the Fells
There are millions of pairs of feet walking the Lake District paths every year, when out walking please:
Be aware that every single footstep causes wear and tear to the environment.  Slow-growing plants which survive on mountains are particularly vulnerable to trampling 
Keep to the path, don't walk along the vegetation along the edge of the path
Don't build or add to cairns - paths need stones more than cairns
Don't take shortcuts - water will soon follow your tracks and an erosion scar will develop. The eroded material may wash into local streams and lakes and cause further problems 
You can find out more about the work being done by Fix the Fells on their website.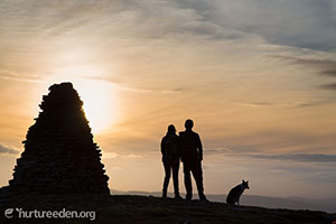 Dog owners are very welcome in Eden
To help make your visit enjoyable and relaxed, please keep your dog on a lead.  Pick up your dog fouling in all of our towns and villages. Bags of dog waste can be disposed of in any council litter bin, dog waste bin, or in the dustbin at your accommodation. 

Also, please refrain from walking your dog in any dog exclusion zones, which should be clearly marked.

Guidance on the Dog Control in public spaces can be found on the Westmorland and Furness Council website with a full legal explanation of all the Dog Control Orders (2008).