Pooley Bridge - The UK's first stainless steel bridge is now open!
The UK's first stainless steel road bridge was officially opened on Friday 23 October 2020 – over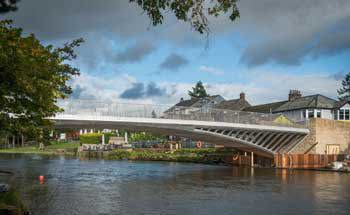 the River Eamont at Pooley Bridge - in time for the October half term holiday.  The new bridge is now open to traffic and pedestrians. 
A flock of sheep was the first traffic across the new bridge which measures 128ft long.  The landmark structure reconnects the Ullswater valley with a permanent new bridge to replace the 18th Century stone structure destroyed in December 2015 during Storm Desmond.
Councillor Tony Markley, Vice Chairman of Cumbria County Council, officially opened the new single span bridge.
Cumbria County Council has delivered the multi-million pound bridge.  This was part of a flagship scheme in the council's Infrastructure Recovery Programme which has repaired damage inflicted by Storm Desmond to over 450 bridges.  As well as large sections of road and other highway infrastructure.
The bridge was designed as a single span structure to avoid the need for piers in the river,
thereby reducing the flood risk and making the structure more flood resilient.
In total, around 80 tonnes of stainless steel has been used, 2,000 tonnes of concrete laid and 650 square metres of locally sourced stone. Some 250 people have been involved in the project and the bridge has taken approximately 10,000 person hours to construct.
A larger scale event had originally been planned to mark the official opening of the new bridge.  However this has been postponed because of the need to protect people's health by following Covid-19 restrictions and social distancing guidance.
Cumbria County Council has produced a commemorative video telling the story of the making of the new bridge which you can view on their Facebook page.