Habitat Trail for Penrith
Penrith Town Council have commissioned local artist Jenny Brook and Gemma Webb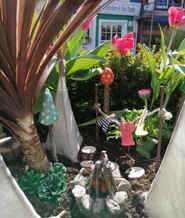 from Stomping Ground CIC to create eight playful wildlife habitats as part of a trail to follow around Penrith.
The hope is to encourage more visits to local green spaces and appreciate the native wildlife that might live in our town centre.
An illustrated map is available on the
Penrith Town Council
website
or you can collect them from Penrith Library by appointment only (01768 812100).