Eden Viaducts launches a new event to help raise funds to #SaveSmardaleGillViaduct
Smardale Gill Viaduct stands in the Westmorland Dales near Kirkby Stephen, its 14 arches soaring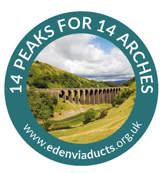 majestically 90 feet above Scandal Beck. Sadly, this iconic monument to Victorian engineering could be closed to the public unless Eden Viaducts can raise the funds for essential repairs. Closure would mean walkers and visitors would no longer be able to use the permissive path across it.
Following a recent inspection by structural engineers, Eden Viaducts have been advised that water penetration from its deck has caused a good deal of damage to the structure. Urgent repairs are required to the viaduct's surface to improve the drainage and make it water-tight to prevent further damage. Only when this is complete can the work start on much needed repairs to the stonework.  At least 3 of the 15 stone piers require urgent attention as they are at risk of becoming unsafe.
Eden Viaducts still need to raise over £100,000 for the first phase of the repairs and are looking for people to help its fundraising efforts by accepting the #14Peaksfor14Arches challenge, covering 90 miles (for 90 feet) whilst doing so.
The challenge takes in some of the most popular fells in the areas surrounding Smardale Gill viaduct.  This includes Nine Standards Rigg, Wild Boar Fell, High Cup Nick, Smardale Fell, Tailbridge Hill, Great Asby Scar, Crosby Garrett Fell, Blease Fell, Murton Pike, High Seat on Mallerstang, Green Bell, Dufton Pike, Cross Fell and Little Fell.
People who, for whatever reason, cannot scale the 14 fells can still join in by covering 90 miles in 14 stages in their garden or high street.  Or on an exercise bike or however they choose.  

You can take part in the fundraising challenge by clicking on the Start Fundraising button on the Eden Viaducts website Save Smardale Gill Viaduct - JustGiving.  Then simply set up your fundraising page and ask your friends and family to join in by sponsoring you.  You can then keep your friends, family, and Eden Viaducts up to date with your progress by posting videos and pictures as you take on the challenge.  If you are signed-up to Strava, you can embed it on your fundraising page so we can all follow your progress on a map and cheer you on.
 
Eden Viaducts will send every fundraisers a #14Peaksfor14Arches to #SaveSmardaleGillViaduct  T-shirt to help publicise their efforts.
  
The message from Eden Viaducts is help us #SaveSmardaleGillViaduct by accepting the #14 peaksfor14arches challenge #BeAFundraiser
Neil Cleeveley, Chair of Northern Viaduct Trust said:
We have a mountain to climb to raise the funds to carry out these urgently needed repairs to Smardale Gill viaduct. We have already received generous contributions from the Railway Heritage Trust and Kirkby Stephen Town Council, which are really appreciated. But we still need to raise over £100,000, so I hope as many people as possible will join us in what should be a fun activity.
We have chosen some of the most beautiful walks in Cumbria on lesser known but glorious fells in the Westmorland Dales, Yorkshire Dales National Park, and the North Pennines AONB.  What better way to help save this iconic Victorian viaduct than enjoying these amazing walks? If you can't do the 14 peaks, you can still have fun covering 90 miles in 14 sessions wherever and however you choose.
It's a great way to raise funds to save this vital piece of our heritage and have some fund too. If you do take part, don't forget to use your fundraising to keep everyone up to date with your progress. I'll be taking the challenge and I'll be posting my progress.
More information can be found on the Eden Viaducts website.