History and Heritage of Kirkby Stephen
Early History
The area is rich in myths and legends, prehistoric settlements and burial mounds, pele towers, medieval halls, Norman castles and Roman forts. Glimpses of the past are revealed in the landscape today - some of the finest Celtic and Medieval cultivation terraces in the country can be seen near the villages of Musgrave, Wharton and Waitby.
Kirkby Stephen, granted its market charter in 1353, was a thriving market town for local agricultural produce. Drovers roads bought livestock for sale and packhorse routes carried goods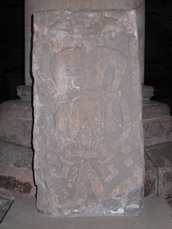 across the Pennines and down the Eden Valley - today they have left a rich legacy of public footpaths, bridleways and quiet lanes.
Inside the Parish Church, known locally as the "Cathedral of the Dales", is the 10th Century Loki Stone, which is one of only two such stones in the whole of Europe. Thought to date back to Viking times, legend says, it shows a carving of the Norse God of Mischief, Loki bound in chains. At the churchyard entrance are attractive sandstone cloisters built in 1810 to provide shelter for churchgoers and market people. Today, much of Kirkby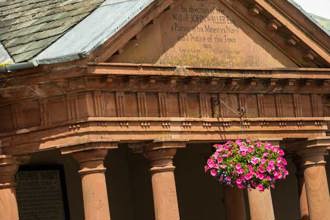 Stephen is a designated conservation area with buildings dating from the 17th century and you can find out more about its fascinating history by following the Town Trail.
Stainmore Railway built in 1861 carried among other things, limestone from the quarry at nearby Hartley. The railway closed in 1962 but today some lovely walks follow the disused line. Plans are underway to restore Kirkby Stephen East Station to its former glory with running trains. The famous Settle to Carlisle railway line which opened in 1875 is still in use today with trains stopping at Kirkby Stephen West Railway station, about 1.5 miles from the town.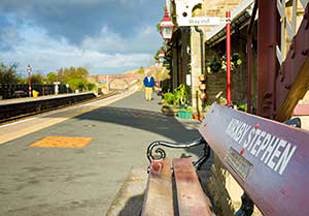 Famous Connections
Lady Anne Clifford (1590-1676) - a woman of amazing character who won back her inheritance and set about restoring her father's castles, churches and medieval halls

Michael Faraday - eminent 19th Century scientist - his parents lived in Mallerstang where his father was a smithy

Eric Bloodaxe - legend of a Viking King killed on Stainmore

Uther Pendragon - Father of King Arthur, legend has it that he was poisoned in Pendragon Castle


Kirkby Stephen Heritage Trail
Download a Kirkby Stephen Heritage Trail and discover more about Kirkby Stephen's fascinating history. 
The Eden Heritage Trail app will give you lots of information on the main heritage sites.