Accessible Holiday Information
Accessible holiday accommodation is available in Eden for wheelchair users or those who have difficulty in walking.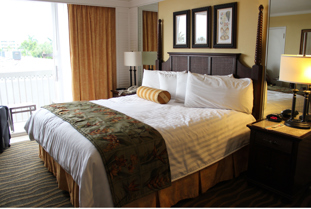 Accommodation listed in the 'Where to stay in Eden' section which display one or more of the symbols shown below are part of the National Accessible Scheme assessed and certificated by VisitEngland.
The National Accessible Scheme (NAS) is a national scheme which helps you find accommodation to suit your needs, independently assessed by trained assessors against demanding criteria. Assessed properties will have facilities such as handrails, ramps, level-access showers, hearing loops and colour contrast. Using the NAS could help make the difference between a good holiday and a perfect one! If you have particular mobility, visual or hearing needs look out for the National Accessible Scheme.

Look out for these logos:

Older and less mobile guests - If you can climb a flight of stairs, but banisters or grip handles would make this easier, look out for this logo.



Part-time wheelchair users - If you have problems walking or can walk a maximum of 3 steps, or need to use a wheelchair some of the time, this logo applies to you.




Independent Wheelchair users - Similar to the international logo for independent wheelchair users. If you're a wheelchair user and travel independently, look out for this logo.

Assisted Wheelchair users - If you're a wheelchair user and travel with a friend or family member who helps you with everyday tasks, this logo applies to you.




Access Exceptional logo - Access Exceptional is awarded to establishments that meet the requirements of independent wheelchair users or assisted wheelchair users and also fulfil more demanding requirements.



There are further logos for the visually impaired and blind people and deaf people and those with hearing loss.  Full details are available on the VisitEngland website.


Self assessed accessibility information
Self-assessed Accessibility Information provides a list of available facilities and services, highlighted as being of key importance by disabled people. Along with Access Statements, which provide a fuller written description of accessibility, it can help people with access needs make an informed choice as to whether accommodation, attractions, food and drink or shopping establishments meet their needs.
If a property displays the 'i' logo contact them directly for more information on their accessible facilities and services.