Aviva Tour of Britain 2015
On Thursday 10 September 2015, Eden welcomed Stage 5 of the Aviva Tour of Britain, which started from Prudhoe in Northumberland and followed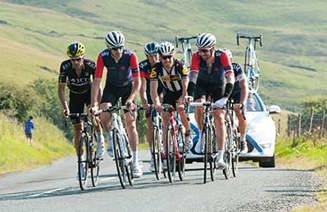 Hadrian's Wall to Brampton before heading down the beautiful Eden Valley and then into the Lake District National Park, running alongside Ullswater. After racing through Penrith, the stage headed to Melmerby at the foot of the eight-kilometre climb to Hartside Pass.
The spectacular sporting finish of the Eden stage, the 8km climb to Hartside was the only mountain finish in the whole of the 2015 tour, and the highest finish ever in the history of the tour!
Visit the Tour of Britain website for photos from the Tour.
We have seen some fantastic photos of the Tour as in passed through Eden, plus all the celebrations which took place in the local communities on the day. Take a look at our special Aviva Tour of Britain Pinterest page to see the photos.
Eden is a great place for all types of cycling and is an exhilarating way to enjoy Eden's epic scenery. From quiet country lanes to more challenging mountain biking - Eden has something to offer cyclists of all abilities.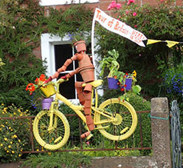 Take a look at our cycling section with lots of useful cycling information including downloadable routes to try.
Where were the Skoda King of the Mountain Sections (KOM) and YodelDirect Sprints?
The Skoda King of the Mountains sections were at: Croglin (just before Lazonby), Brockleymoor near Plumpton and Hartside. There was a YodelDirect Sprint along Devonshire Street, Penrith with a finish outside the George Hotel.



Special Community events to Celebrate the Aviva Tour of Britain:
Many Eden communities held special events to celebrate the Tour in Eden.


Yellow Bikes around Eden
There were many special yellow bikes around Eden to celebrate the Aviva Tour of Britain. Langwathby, Lazonby, Tirril, Pooley Bridge, Melmerby and Penrith are just some places where you could see how local communities got involved with the Tour.
TV Coverage:
The Aviva Tour of Britain was a televised event, with both a highlights programme on ITV4 in the evening and live coverage showing footage from themotor-bike based camera crews and race helicopter from 1pm.
Aerial Artworks:
There were aerial artworks to look out for if you were watching the Tour on TV.
Ullswater 'Steamers': The Steamer named 'Raven' was highly visible on Lake Ullswater with yellow bunting, Union jack flags and a yellow painted funnel
Huge grass bike artwork at Salmon Hill, Waterfoot on the hill in the field on the left-hand side of the A592 opposite the Duke of Portland Boat House
Yanwath School: Created a huge sculpture/artwork in the school playing field
Lazonby School: Large field artwork on the school playing fields by artist Ben Gates working with school pupils