Heritage Open Day: Open the Door on St Ninian's
Open the door on our unique historical space and unlock the wealth of experiences within.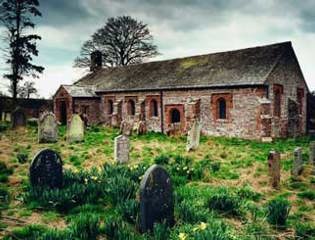 Event Date
11 September 2020
12:00 AM
This event occurs from
11 Sep 2020 to 20 Sep 2020
£
Description
What's behind a door?

You may find yourself on a tour of marvellous features and hidden histories or immersed in stories and sounds, you may find yourself seeking inspiration from the glass and gargoyles or creating your own using the nature around you. You may find yourself simply taking a moment of calm to just let the sights and sounds of these special places wash over you.

You may find yourself sharing what you find behind the door with us on social media creating a living gallery of hidden nature.

Download our Heritage Open Day Activities and uncover a variety of different experiences for all to enjoy.

The choice is yours, you just have to open the door…

Known locally as Ninekirks, St Ninian's stands remote down a long track, above a bend in the River Eamont and with views of the Pennines and the Lake District. It is worth finding both for its lovely setting and its fascinating history.

The original Norman church was completely rebuilt in the seventeenth century by Lady Anne Clifford, who inherited Brougham Castle. Her restoration work is recorded in the plasterwork above the altar, in a wreath with her initials AP (Anne Pembroke the Earl of Pembroke was her second husband) with the date 1660. The building is almost unaltered since, and its simplicity, combined with excellent workmanship, make it both enchanting and memorable.
Event Venue
St Ninian's Church
Address
Brougham,
Penrith,
Cumbria,
CA10 2AD
See on map