The World's Original Marmalade Awards 2022: The Homemade Awards and Marmalade Festival
Pay a visit to majestic Cumbria for an unforgettable day on the 14th May.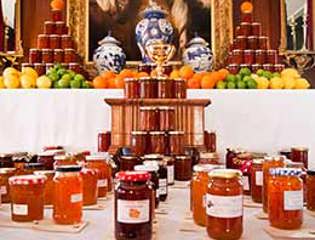 Event Date
14 May 2022
12:00 AM
£
Description
The Festival is returning to Dalemain Mansion, these Marmalade celebrations are for anyone who loves marmalade, festivals or a good day out!
The 2022 Marmalade competition will open this December 2021 and will close on 11th February 2022. Homemade winners will be announced at the Marmalade Awards, where we will be crowning our best in show. This will be followed by a day of Marmalade celebrations with tastings, stalls, lectures, children's activities and more!
The event will also raise funds for the Hospice at Home Carlisle and North Lakeland, with lots of opportunities throughout the day for the public to support this much-loved local charity
At the heart of the Festival is Dalemain Mansion and Historic Gardens, where thousands of homemade competition Marmalades will be on display in the state rooms in all their glory and the best artisan Marmalades in the world will be available to taste for FREE and to buy.
Event Venue
Dalemain Mansion and Historic Gardens, Penrith, Cumbria, CA11 0HB