Blacksmith For A Day - Ramshead Poker with Adrian Woods
'Artist Blacksmith for a Day' with Adrian Woods - making Rams Head Pokers.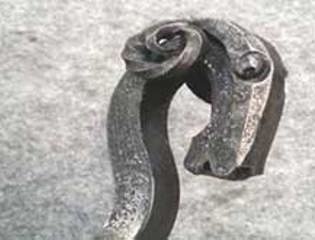 Event Date
14 November 2021
12:00 AM
This event will also happen on the following dates: Sunday 11 Jul 2021
Sunday 14 Nov 2021

£ 115
Description
Take Artist Blacksmith Adrian Wood arriving with his apprentice Andy from Cleveland equipped with 4 portable blacksmith furnaces, anvils and many tools and you have the ingredients for a perfect blacksmith day.

Our Blacksmith for a Day courses run throughout the year: Dragon Hooks and Rams head Fire pokers or Sculptural garden flowers.

Adrian and Andy will arrive early to set up his mobile forges for 8 people on the Cafe driveway in our covered blacksmith area. Fresh coffee and home made biscuits will be waiting as a welcome drinks and then, after a safety talk and with furnaces lit, Adrian will explain basic principles, the colours of hot metals, malleability, temperatures and the importance of getting just the right temperature for the right task.

The group will then start with creating a point on the piece of metal, quickly moving onto curves, bends and scrolls, punching, spreading and splitting. Once the fires are lit and the health and safety chat out of the way we will get straight down to the business of hammering some hot steel.  The day is fully hands on and as well as learning the basic principles of the blacksmith techniques. You will make up to three items to take home with you. Techniques for tapering, hole punching, splitting and riveting will be covered. Even as a beginner under Adrian's watchful eye you should be able to make these pieces to take home, proudly display and of course, put to use!

A unique opportunity for a really full-on day experience. These days are suitable for all abilities but not for those with back problems or other health issues relating to fatigue or joint problems.  Minimum age strictly 16 years. Stamina is required throughout the day.
£115 including materials plus a tasty 2 course Aga lunch and home baking.
Event Venue
Quirky Workshops