The Tour of Britain comes to Eden this September!
The Tour Of Britain
is coming to Eden on Friday 10 September and there will be an intermediate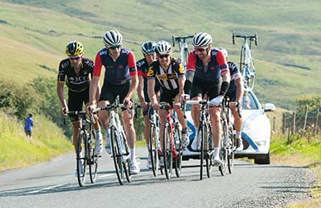 sprint in Penrith!
Stage Six from Carlisle to Gateshead will retrace large parts of the popular Sea to Sea route before finishing in the shadow of the world-famous Angel of the North. Carlisle welcomes the race for the fifth time in modern Tour history – all of which have been stage starts.
The route passes alongside
Ullswater
 and through
Penrith
before tackling the SKODA King of the Mountains climb at Hartside, which was used as a stage finish in the 2015 Tour. Two further ŠKODA King of the Mountains climbs follow soon after in the heart of the
North Pennines AONB
– at Killhope Cross and Burtree Fell – as part of the 3,000 metres of elevation gain that features in this stage. Although Gateshead has previously hosted two stage finishes of the race, this will be the first to culminate alongside Sir Antony Gormley's famed sculpture.